Turkish Media
I have been featured in two different Turkish magazines this summer, relative to my audiobook release. Totally excited! I don't speak Turkish, but I have been told they say some nice things!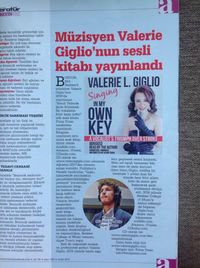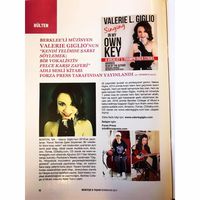 World Stroke Day!
October 29 was World Stroke Day -  a day to not only remember all those impacted by stroke, but also a day to promote awareness. Learn the warning signs...F (facial drooping), Arm (weakness), S (speech difficulties) and T (time is of the absolute essence, get to a hospital immediately). I am honored to be a featured story for the National Stroke Association's World Stroke Day campaign! I will be in the next issue of StrokeSmart magazine, and am featured on the home page of their website. I am so happy to be able to share my story with the hope that it may give someone hope. Click here for more info: Valerie Giglio's Story; StrokeSmart
Upcoming appearances
Barnes and Noble Veterans Day Concert
I will be singing at Barnes and Noble, Burlington, MA on 11/11 from 11-1. Come on down!
Holiday Stroll
December 2, Downtown Wakefield, MA
I will be performing at the Holiday Stroll on December 2 in downtown Wakefield. Time TBA!!!!
Cheers!
Valerie